Well, lots of posts from me lately, bit strange hey!?!?
Anyways, I was making a list of my mission to get 'followers' and as we do when we read blogs start surfing blogs all over, one of my recent followers,
Irma
, is hosting some awesome Blog Candy.
You can click
here
to visit her blog.
To win these gorgeous earrings.....
The following 'rules' are taken from her blog
Would you like to win these earrings?
****(OPEN TO ALL: International entries are welcome!
Here's the rules:
Become a

follower

of my blog here via blogger, and (if you want to be super sweet to me),

also

become a follower of my Facebook page:

Eclectic Fancies of Irma Peredne

.

Repost

this giveaway with a link back

on your own blog

, Facebook page, Twitter, or other social network.

Leave

one

comment in the comments section, with a link to where you reposted this giveaway.

Also in the same comment please share with us

a tip on how you, as a creative individual, make time for art and creativity

.
*International entries welcome!

*One lucky,
registered
winner will be picked via a random number generator.
*Comments will be accepted until
February 1, 2011
(Midnight EST).
*If you include your email address in the comments section, tracking you down to claim your prize would be that much easier for me.
*If you have difficulty leaving a comment, please comment as '
Anonymous,
' but
do not
forget to sign your name (email address especially important in this case).
*If your comment does not appear immediately, do not panic :) For posts over few weeks old, comment moderation is turned on. I do not lose any comments, and you will see them upon moderation.
*If you really liked these earrings, but luck was not on your side to win them, then I have great news for you! Eclectic Fancies of Irma Peredne is opening an e-shop in 2011, and you will be able to purchase the same earrings!
Here's the specifics on these delicious raspberry earrings:
Made entirely of

genuine sterling silver

wire and components (meaning it is

solid silver

, the silver won't rub off as with other cheaper silver-plated metal alloys).

Size

: Measures 1 3/4 inches, or 4 cm from ear wire to bottom dangling bead.

The round 'raspberry' portion of the earring is made of freshwater pearls, and genuine Swarovski crystal beads.

The iridescent grey dangling bottom bead is

Labradorite - the stone of spiritual awakening

.
Good luck to all who enter!!!

What a funky pair of earrings, I know that would certainly love to win them!!!!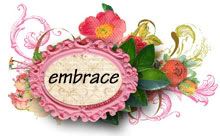 Take care
xxx