Just a quick post with some new layouts..
Layout title: The place where dreams come true
This layout was created for
Bons
Room of the Month for January based on this picture....I used the colours in the picture.
Layout title: The four of us
This layout was based on the sketch at
Anna's Craft Cupboard
....I just reversed it a bit and layered more (as I do).
I also made a couple of frames for pressies, here is just a quick picture of each.
I signed up for Ali Edwards 'One Little Word' class, hoping to get started on this next!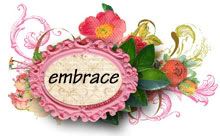 Take care
xxx
P.S - Don't forget to become a follower to win a RAK prize!!