Okies....just a layout share for today.
I had a scrapping day with my Geelong Bon's buddies
Leoni
e and
Marelle
. It was lovely to sit and make the time to scrap - making it a priority, not just something I do if I have time left over.
I managed to complete two layouts, one I love and one I not so love.
The first, the one I like was for
Bons
Colour Challenge at the Cybercrop....challenge was to use black, cream, white and purple only, to use a non-portrait/face photo and to include a bulldog clip.....loved the challenge and surprisingly loved the colours (esp. with the papers I managed to find in my stash).
Layout is self explanatory really....
Layout title : The Ring
Second layout is the January challenge for white with one...challenge was to use white, royal or navy blue and banners - thats it, no extra colour at all. I found this TOUGH - I NEED my colour and I NEED to layer, just not happy with this one at all really....but here it is anyway.
I made the mickey bunting/banner on my own by tracing 3 circles....
Layout title: Disney Express.
Well thats it for now, another CHA 'love' sneak soon .... gee there is some nice stuff coming, my bank balance better watch out!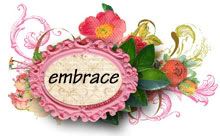 Take care
xxx