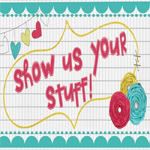 Have you seen Decembers SUYS Challenge, its a nice easy one!
Scrap a Christmas photo using non traditional colours!
The sponsors this month are
2 Crafty
and
Deer and Fawn
. 2 Craft are donating a $30 prize pack and Deer and Fawn a $10 voucher. All you need to win is follow the above criteria and make sure you add a handmade embellishment to your page :)
My sample is going to be revealed mid month and I will share here of course too.
I have been busy reorganising my craft room so that I could get in there and create. Charlotte has started to be more settled and this is allowing me to have small blocks of time free where instead of cleaning or cooking I could have some 'me' time. But before I did that I needed to clean and sort that space I call my scrapbooking room.
I'm loving it so far, though there is still some sorting to be done...
Finally pictures on the walls!
My silhouette and matching typewriter ... hoping to have a play with the silhouette this weekend, I've had it a few weeks now and haven't used it
My new trolley with my mixed media supplies in it and my cute pink TV from Aldi.
So what do you think?
Cannot believe it is nearly christmas and I have been trying to do some shopping online, if anyone knows of any good online stores for pressies would love to hear about them.
My little girl is getting bigger and bigger - she is 2 months old already!
She has made so many changes; is smiling now, talking a little bit, kicking her legs and getting bigger day by day! Love her to pieces <3 p="p">
3>
Anyways, I'm feeling creative so might go play!