Today I am here to share another layout using gorgeous products from D-lish Scraps which I created to enter the Stuck Sketches March 1st Sketch for this month. I love joining in with Stuck! as I find the creative process just flows - and its quite amazing that although people use the sketch everyones layouts look pretty different.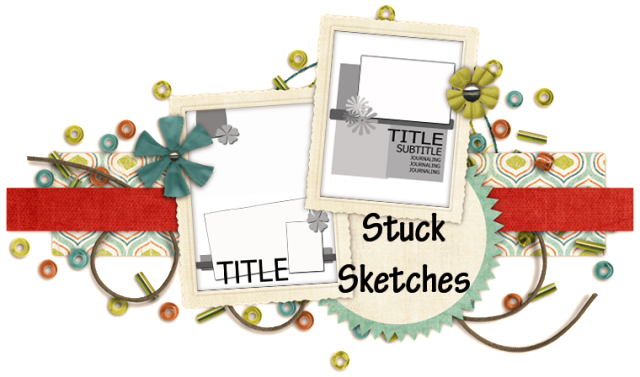 This is the March 1st Sketch which I used.
And here is my layout:
Layout title: A Girl and her Ted
Products Used:
D-lish Products Used:
Paper Doiley 5.5 inch Pink Polka Dot
Seam Binding - Pink
Resin Forget Me Nots Grab Bag
Clever Sequin Pick-up Pencil
Loose Sequin Mix - Butterfly
Mini PVC Doilies - White
Medium Resin Rose Grab Bag
Trellis Roses - Pink
Cosmos Daisies - White
Charms - Feather
Resin Flower Clusters Grab Bag
Washi Masking Tape - Watercolour
Other Products:
Papers:
White card stock, Studio Calico 'Sundrifter' range
Alphabet:
Studio Calico, American Crafts 'Thickers'
Embellishments:
Studio Calico 'Sundrifter' stickers and die cuts
Other:
Silhouette Cameo, white thread, staples, typewriter
Some close ups:
The D-lish goodie cluster -
Journaling - all about Miss Charlotte's teddy
Title and further journaling
Bottom embellishment cluster
Hope you like, I really enjoyed the process of creating this one. LOVING this SC range too and I'm sure I will be creating more pages with it, its so yummy!
Don't forget, that if you like any of the embellishments I have used, I have linked them above to the D-lish Scraps store :)