Today I am here to share with you a layout I created using the May APOCD kit and some gorgeous
D-lish Scraps embellishments.
The layout was based on the July 1st Sketch at Stuck Sketches.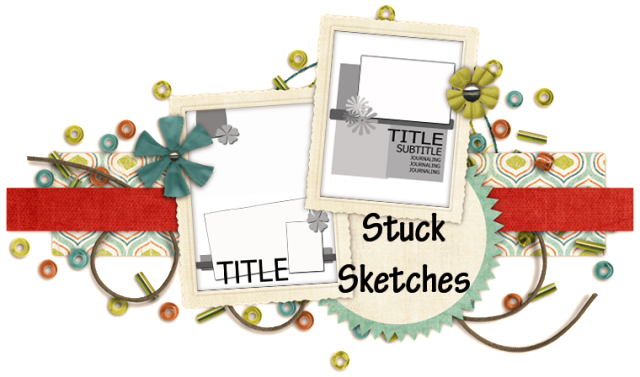 This was the sketch:
When I saw this sketch and the circular elements &butterflies I knew I had to give this one a go. But I also wanted to try a few different things. I decided to pull out my Faber Castell Glaze, my Gelatos and gesso and have a bit of an experimental play. I am quite happy with the result too, I will go into more detail in the close up pictures and also in my post on the D-lish blog towards the end of the month...
Here is my layout:
Layout title: Happiness is like a Butterfly
D-lish Products Used:
Bobby Pins - Silver x 2
Big Blooms Grab Bag
Sequin Bow - Light Pink
Mini Resin Pastel Butterflies Grab Bag
Paper Doiley 20cm round
Washi Tape
Resin bird (coming to the D-lish Store soon)
Freckled Fawn Products available in the D-lish Scraps Store:
Enamel Dew Drops - Black/Grey/White
Enamel Dew Drops - Ombre Pink
Other Products
Used
:
Papers:
White card stock, Plain Vellum, Studio Calico Patterned Paper and Vellum, Simple Stories Patterned Paper
Embellishments:
Simple Stories Alphabet and Elements sheet, wire.
Other Products:
Faber Castell Gelatos and Glaze, Gesso, Heidi Swapp Stencil, Tim Holtz tiny attacher and staples, sewing machine and white thread, typewriter.
Here are some close ups of the page:
I decided I wanted to keep the butterflies in the sketch and not change them to another shape. I used the Faber Castell glaze and a Heidi Swapp Butterfly mask to create a resist in my paper. When I applied my gelatos, the butterfly image would resist them and still be evident. I found the butterflies were not standing out enough so I added a little grey gelato outline, which I blended with my finger. To add dimension I created the wire butterfly flourish and traced the butterfly template onto vellum, cut them out and stapled them to the page.
Here I have also used lots of D-lish goodies, washi tape behind the photo, an adorable sequin bow and the Frecked Fawn enamel dots.
Close up of the journalling, I really love this quote and its so true!
The D-lish resin bird, enamel dots, mini butterfly, etc. Lots of D-lish goodies in this close up :)
Thank you for taking the time to have a look at my layout!
Oh an before I forget, other Scrappy News I made it into the Jot Creative team finalists list which can be found
here....
now the Jot girls have the fun job of narrowing this list down to a handful of women!
The amount of talent in this list is amazing, and although I doubt that I will make it into the final team of five women, just being on that list, amongst that talent is just so lovely :)