Only 15 more days until we are due to meet our gorgeous little bubba! So cannot wait!

Bubba is just too cute! Can't wait for snuggles. This was a 4D scan at 27 weeks.


I think this pic was 33 days to go :)
I sorta put myself on self imposed bed rest yesterday (been doing too much I think, so was exhausted and sore - to top that off a high bp) and begun revamping my blog, something that I have wanted to do for aagggeeess! Gee, this whole 'web work' and 'html' thing takes ages to get a hang off. I tried to really customize it though, by adding page tabs at the top that I designed, social icons I designed etc. Next part I need to tackle is the sidebar - prettying that up and adding headers for each part.
Now a plug for this months SUYS!
There are still a couple of days to get your entries in.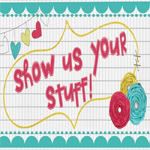 This month is an awesome quote challenge, use this quote on a layout:
"The world is filled with undiscovered wonders. Come, little one, let's find them out together."
Author: EMILIE AHERN
Sophie's challenge for those 'younger scrappers' is also running a really cool 'try this' type of challenge this month.
It is 'bubble painting'.
There is a clip below that Sophie suggested looking with your younger scrappers to get them started.
October 'A Piece of Cake Designs' kits are coming along nicely! A little different in terms of 'my usual' style of kit, but I am really loving this one :) If all goes to plan these should be on sale on Monday the 8th October, providing a little bubba doesn't greet us early!
In the meantime we do have a few September kits available:
This kit is packed full of beautifully coordinated goodies and our DT girls have done an amazing job creating pages with the kit.
You can see their pages on our blog
Thanks for visiting, unfortunately no pages to share as most of my scrapping recently has been upcoming mag commissioned work.
I can share a sneak from the latest Scrapbook Creations Mag, featuring one of my layouts:
But, you'll have to buy the mag to see the whole thing!
Better go, take care, xxx